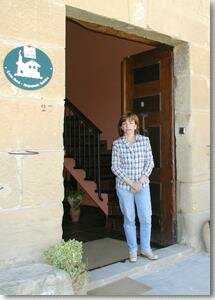 Hello !!.. How are you?

I am Mari Cruz Díaz Matute, owner of the Country House "El Mesón".
As a resident and native of Briones, I want to thank you for the interest you have shown by navigating through these pages about our beloved town and I wish to inform you that here we have rehabilitated an old Wine Inn, to lodge those who want to visit us not only electronically, but also in real life....

I invite all of you to get to know our house, its installations, in which we have placed so many dreams, with the assurance that your desires for La Rioja and this town of Briones to leave an unforgettable imprint on you will become reality more easily knowing that at the end of each day you will have a comfortable and pleasant place to rest from a busy, active day.
For your visit you only have to select the subject of interest among those that are shown on the left of your screen.

And if you want to get in contact with us, you can find all the ways to do so on the "Contacts and Reservations" page, including our electronic mail address.
SEE YOU SOON !